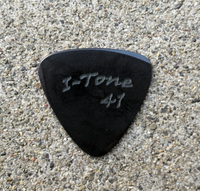 WALHALLA, SC  (September 21, 2017)  --  Blue Highway's heralded vocalist, songwriter, and instrumentalist Shawn Lane and Clemson University engineer associate Brad Poore announced to today the introduction of a new Limited Edition I-Tone Pick. 
The Limited Edition Onyx is streamlined jet black with a heavier, thicker feel, due to a special diamond hardening agent being added to the original I-Tone material. 
I-Tone Picks are made from the same material used by NASA in construction of the Space Shuttle.  The almost indestructible material has one of the highest wear and temperature ratings known to man, and delivers crystal clear tone and clarity when it strikes the strings. 
Shawn Lane explains the introduction of the Limited Edition Onyx: 
"This Limited Edition of the I-Tone Pick is made of the original I-Tone material, but with a touch of diamond hardener added to it.  This hardener was added just to see what would happen. It was never meant to be made into a pick until it turned out so unique.  The Onyx brings the feel of a heavier, thicker pick, without physically making the pick any thicker than the Original I-Tone 41, while retaining the same durability and extremely high wear rating as the original ivory colored material. Just like the Original I-Tone Pick, he Onyx version has its own feel and tone characteristics. Also, as an added bonus, the modification process turned the color of this pick to a beautiful, streamline jet black.  The I-Tone Onyx will be a limited run of picks. The Original ivory colored I-Tone material will continue to be the main focus of our pick production going forward."
The Original I-Tone Pick debuted nearly a year ago in October 2016 to rave reviews from professional musicians and back-porch pickers alike:
"Love the I-Tone Pick!  Have used it every set with LRB since I got it, and will continue to do so!" - Jesse Smathers, mandolin player of the award-winning Lonesome River Band. 
"Best pick I have ever used! You can not go wrong with these!" - Mike Tallent, lead vocalist and mandolin player of Unbridled Strings Band.
The Limited Edition Onyx will be available for Pre-Sale on Friday, September 22, on the I-Tone Picks website at www.ITonePicks.com, with Free Shipping in the USA.
The Official Premier of the Onyx will be at IBMA World of Bluegrass Expo in the Raleigh Convention Center Exhibit Hall ~ Booth 414~ on Friday, September 29.    The Exhibit Hall will be open to the public on Friday-Saturday, September 29-30, from 11:00 AM - 6:00 PM.  Shawn Lane will be available at the booth to answer questions and sign autographs on Friday only.
Shawn Lane is a fan-favorite vocalist, instrumentalist, and songwriter, and a co-founding member of multi-award winning supergroup Blue Highway.  Shawn is as explosive on fiddle as he is on mandolin, often lending his talents to the GRAMMY-winning Earls of Leicester when not on the road with Blue Highway. Shawn was nominated as 2015 IBMA Songwriter of the Year, and has co-written such perennial Blue Highway favorites as Tears Fell On Missouri, The Seventh Angel, V-Bottom Boat, Sycamore Hollow, and Sounds of Home, which was nominated as 2012 IBMA Song of the Year, as well as the beloved A Mother's Prayer with Ronnie Bowman, which was recorded by the GRAMMY-winning Hall of Fame legend Dr. Ralph Stanley.  Lane played in the bands of both GRAMMY-winner Ricky Skaggs and Hall of Fame member Doyle Lawson prior to becoming a founding member of Blue Highway in 1994. 
Brad Poore is a guitarist/vocalist and respected engineer associate at Clemson University.  Brad brought nearly 20 years of experience in design, fabricating, welding and construction to this project.
For more information on I-Tone Picks, please go to www.ITonePicks.com. 
For more information on Shawn Lane, please go to www.ShawnLaneMusic.com and www.BlueHighwayBand.com. 
### 
Press Release and Photo Courtesy:
Sherri George
Agent, Tour Manager, and Publicist
Blue Highway, Shawn Lane, and I-Tone Picks
_________