by 
John Curtis Goad
of
Bluegrass Today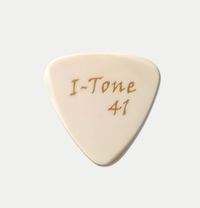 (October 4, 2016)  -- When it comes to learning a craft, there are lots of insider tips, tricks, and so called "trade secrets" out there – the stuff that "only the pros know" and everyone else is dying to find out. This can be especially true for musicians. This is where people get sucked into buying specific items like pedals, tuners, and other gadgets just because their favorite musician uses "the thing" or someone at their local music store (where the rubber always meets the road) convinced them they had to have it. 
All this stuff promises to make life easier for the musician, but the sad fact is that most is all hype and little to no delivery. On the flip side, every once in a while something comes along that just works. The I-Tone, although it sounds like something that could easily be a dating site for single banjo pickers, is the latest gadget to come across my desk. 
Literally made from material used on the Space Shuttle, this new flat pick is literally something out of this world! It's just plain good. Without being overly technical, the I-Tone 41 is made of a material that has a really high wear tolerance and density, and is solid as a rock. At .041 of an inch in thickness, the iTone is a perfectly shaped and beveled flat pick that is sure to make a believer out of anyone who remotely likes the shape and thickness of this specific design. 
The pick was created in collaboration between Shawn Lane of Blue Highway, and Brad Poore, an engineering associate at Clemson University. Brad is also a musician, and brought his nearly two decades of experience in design, fabricating, welding and construction to the table for this project. 
It's an absolutely great alternative to picks from manufacturers like Blue Chip. The only downside is that it is currently available in only one size and shape. As a teardrop guy who used to religiously use triangle shaped picks, I have to say it's not my favorite design ever, although if they made a teardrop shape in it I'm sure I'd purchase several. 
In fact, I liked the I-Tone so well that regardless of the shape, I've got a couple on the way. I believe in it and bet that you'll like it too. Next time you're in the market for a good flat pick, make sure to give one of these a chance. It's definitely worth a strum or two. 
The Shawn Lane I-Tone pick sells for $35 each, with free shipping within the United States ($3 international). All orders placed during this, their first week on offer, will be entered in a drawing to win an autographed set of Shawn's solo albums (10/4-10/11/16).